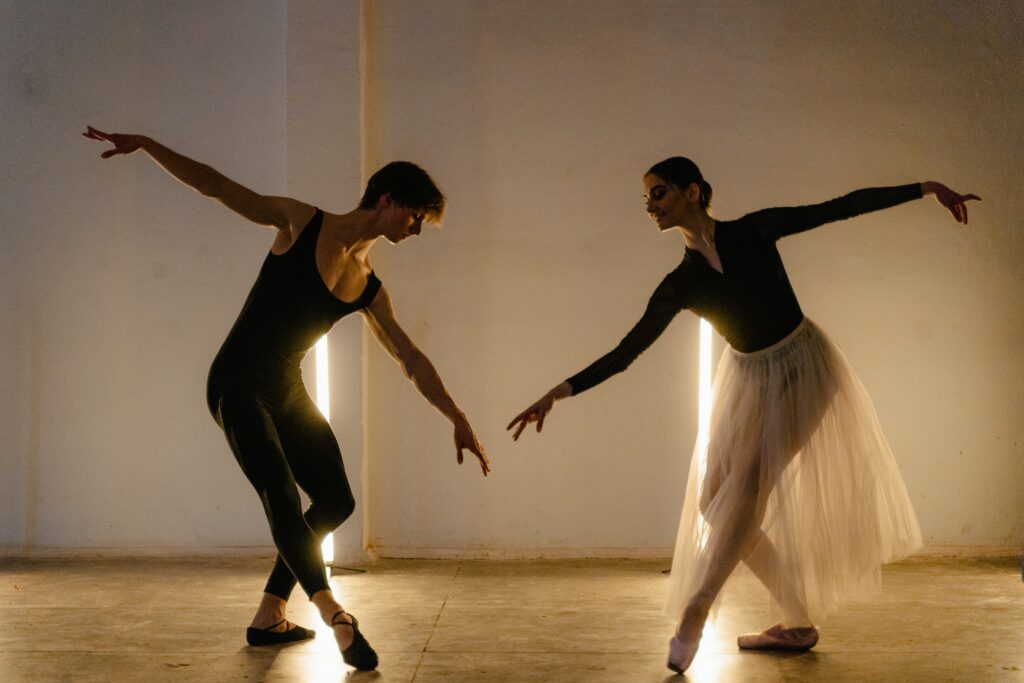 Finding a dance studio near you can be difficult at times. When you have a busy schedule, but want to purse dance, finding a dance studio is hard. Whether you are searching for a dance studio near you for adult ballet for yourself or ballet for kids, we can help!
The International Ballet Academy is a dance studio near everyone. How? We offer a unique online platform with synchronous and asynchronous classes. All classes are taught by real, professional ballet instructors.
Is an online dance studio really a dance studio? Absolutely! In some ways, our online ballet studio has significant benefits for those looking for a dance studio near them.
How Do I Find A Dance Studio Near Me?
For many people, a simple Google search is how the begin. However, once several dance studios pop up, how do you find the right one?
While many dance studios offer adult ballet and ballet for kids, the class offerings and scheduling can be limited. It can also be difficult to find a studio with true ballet instructors. Being able to dance does not necessarily mean possessing the skills and experience to be a professional instructor.
When choosing a dance studio near you, it is important to ensure a wide array of classes, flexible schedule, and professional instructors. At the International Ballet Academy, we cover all three of those important criteria.
To learn more, be sure to read Finding a Dance Studio Near Me for additional information.
Are Online Dance Studios Legit?
In short, they absolutely can be! We are not talking about YouTube instructional videos from typical dance studios. Random videos are not a substitute for real ballet instruction.
However, at the International Ballet Academy, our instruction is unique. We use only skilled, professional, and qualified ballet instructors. Our instructors provide detailed synchronous and asynchronous lessons to ensure you master each skill before moving onto the next.
With the International Ballet Academy, you are not simply signing up for online ballet videos. Our classes are the same style instruction you receive at a physical dance studio.
"When choosing a dance school, there are several important things to look for. Some of the most important things in choosing a dance school include:
Flexibility in scheduling
Professional dance instructors
Classes organized by skill level
Classes for toddlers, children, adolescent, special needs, and adults
Flexible payment options
Convenience of location
"While there are many dance schools, not all offer professionally instructed dance classes. At the International Ballet Academy, all our classes are taught by professional instructors. As for location, it could not be more convenient as the classes are held right in your own home!"
This excerpt from The Benefits of Professional Dance Classes shares a bit more about the importance of professional instruction. Be sure to click the link to learn more.
What Are The Benefits of Online Ballet Studios?
From caregiver and me to adult intermediate ballet, and everything in between, there can be significant benefit to online ballet classes. Whether you are looking for a dance studio near you for yourself or your child, you cannot get any closer than your own home!
With busy work, school, and commuting schedules, squeezing in ballet training can be a challenge for many families. By accessing an online ballet studio, you get all the benefits of ballet with the convenience of your own home and schedule.
Some benefits of ballet include:
Mental wellness
Improved flexibility
Increased strength
Better motor planning and coordination
Prereading and improved math skills
Improved cognitive abilities
Improved fitness level
And more!
You can learn more about the benefits of ballet by reading 7 Reasons To Take Ballet and Five Reasons Children Should Take Ballet.
Finding a dance studio near you can feel overwhelming if you are in a large metro area due to the sheer number of options. And if you live in a more rural area, it can be overwhelming due to lack of options. With the International Ballet Academy, you can register for ballet classes without having to navigate schedules, commutes, and wondering if you chose the right studio.
Ready to get started? Check out all the classes we offer and register today!