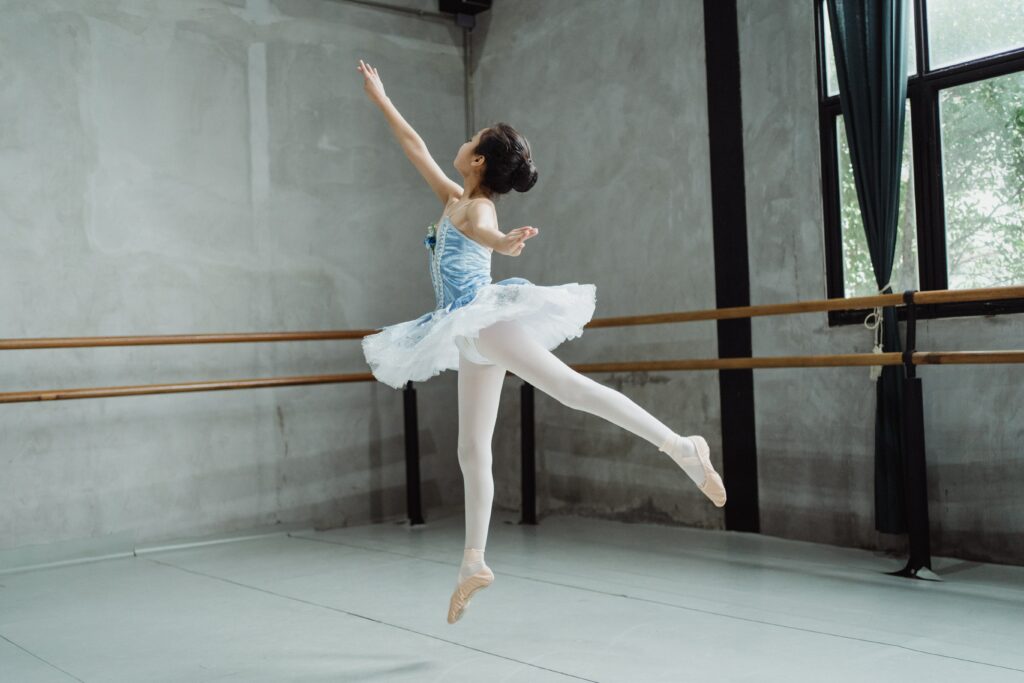 There is a reason we see ballet as a rite of passage for many children, especially little girls. Many of us took ballet as a child or we knew several friends who did. The classic pink leotard and the dance recitals with puffy tutus remind us of a classic childhood activity. But what are the reasons children should take ballet?
The reason it is a popular childhood activity is it holds many benefits. As parents, we want our children to have fun, be active, and learn during their activities. Dance does all of that and more.
Here are five reasons children should take ballet:
#1: Children Learn Instructions and Directions
We want our children to learn how to follow instructions, and to learn left from right or up from down. However, few children happily learn these things just by being told.
Dance provides a fun and interactive way for children to learn how to follow instructions. Professional dance instructors know how to teach while being engaging and fun. The combination of movement, music, and fun make it easier for children to learn and retain what they have learned.
This is a lifelong skill, and especially important skill for entering school. When children are already accustomed to listening to instructions, the transition to schooling can be easier.
#2: Improved Coordination, Motor Skills and Balance
It may come as a surprise, but in some classrooms upwards of 80% of students have poor core stability and strength. Our sedentary culture, long school hours, and time spent commuting makes it difficult for children to get as much activity as they need.
Exercise, coordination, motor skills, and balance are as important as a child learning to read and write. In fact, they are necessary before a child can begin to learn well academically.
There are strong connections between physical movement, mastering motor skills, and cognitive skills. Enrolling your child in ballet is an excellent way to help them improve their coordination, master balancing, and improve their motor skills. This is a key for health and for future academic success.
#3: They Get Regular Exercise
As mentioned above, many children struggle to get as much physical activity as needed. We even have a national campaign in the US to encourage 60 minutes of physical play per day. However, experts recommend three to six hours of physical activity depending on the age group.
It can be intimidating to hear. How can you fit in extra exercise with long school hours, commutes, and homework?
At the International Ballet Academy, we know how challenging this can be. That is why we offer professional instruction through our online synchronous and asynchronous classes. You can get all of the benefits of ballet training in the comfort of your own home. This makes it easier to increase your child's physical activity in a fun and engaging way.
#4: Ballet Improves Confidence and Comfort in Public
We all want our children to be happy, healthy, and confident. We cannot control all aspects, but we can do our best to provide situations which will encourage these things.
Ballet is an excellent way to improve your child's confidence. This may be seen in their overall interactions, or you may even find your child comfortable performing in public. This increased confidence can make schooling easier. It can help them become comfortable with public performance and public speaking.
Ballet requires mastering skills, then moving to the next level. With each new skill mastered, your child's confidence can improve. Even if dancing does not come naturally to a child, the professional instruction can help them master skills and become confident in dancing, and life!
#5: Children Learn Self-Discipline and Internal Motivation
We live in an era of instant gratification and rewards. While there is nothing inherently wrong with either, it is also important to have some self-discipline and internal motivation. Ballet training helps children become self-disciplined as they practice and master each new dance skill.
The internal motivation comes as they master a new skill and build their confidence. Getting external rewards can be exciting, and they have their place. However, building internal motivation, is an important part of being content and successful. Rewards are not always instant, nor does everything that is good for you come with a noticeable reward.
Ballet offers a lot for your children. These five reasons children should take ballet are just a few of the amazing benefits. Be sure to register your child today to learn first hand all the benefits of ballet.