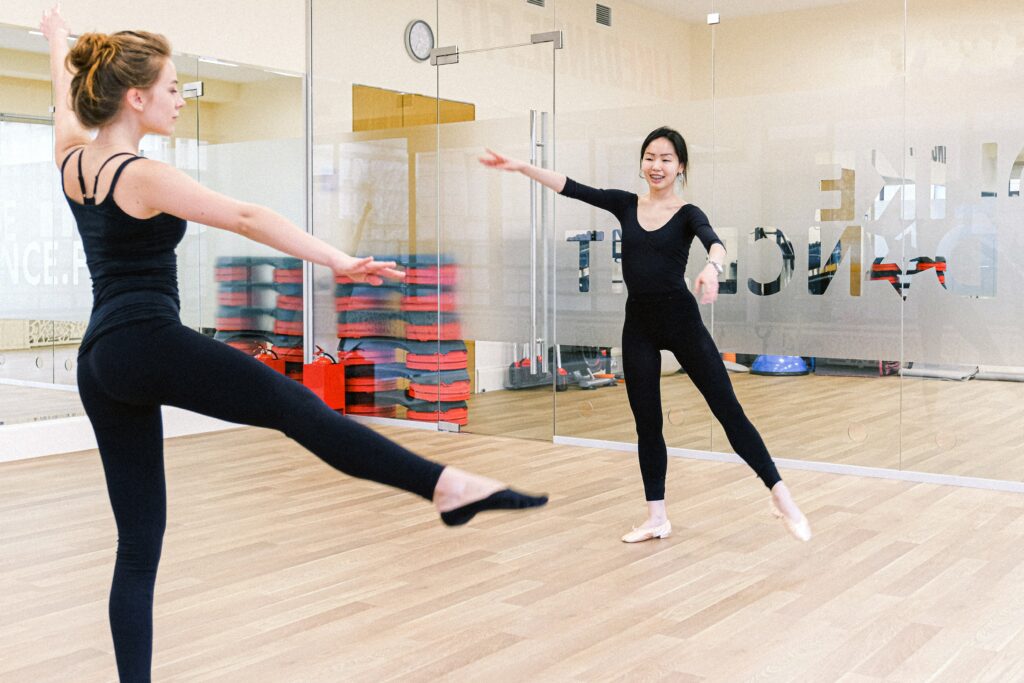 As an adult, trying out a new activity can be exciting but also difficult. How do you find time in between work and home responsibilities to enjoy ballet? Online ballet classes seem like a viable option, but are they worth it?
As the pandemic dragged on, we found more and more opportunities to learn online. Courses, activities, etc., have been online for quite some time. However, as things changed in 2020 the number of online options grew exponentially.
With loads of options for online ballet classes, how do you know if it is worth it?
The shortest answer: it is absolutely worth it! Ballet has significant benefits, even for adults who are just beginning. Combine that with the unique platform of the International Ballet Academy, and you will find that online ballet classes are a great match for learning to dance.
How Do Online Ballet Classes Work?
When we think of learning things online, so often our mind goes to YouTube or varying social media sites. While you can learn things there, you do not have a real instructor. This leads to things being self-taught.
When it comes to ballet, being self-taught is rarely doable and could even be risky.
At the International Ballet Academy, real, qualified ballet instructors teach all our online classes. When learning ballet, it is important to learn each step in the proper order. You need to be able to build the right muscles and techniques before moving on to the next step.
Our unique combination of synchronous and asynchronous ballet classes ensures you have access to tremendously helpful instruction.
Each level has a flexible schedule and varied frequency in lessons. With this unique schedule option, you are sure to easily find time to fit your new passion into your busy day.
What Are The Benefits of Online Ballet Classes?
As many of us are back at the office, our kids are back to sports, and we have day-to-day life to squeeze in, finding time for a new passion is hard.
Being able to simply login for classes in the comfort of your own home makes jumping into adult ballet easier. There is no beating traffic on your way from work to the dance studio when you are ++++doing online classes.
If you are new to dance, you might be unsure how you will feel participating. You can learn in the comfort of your own home with online ballet classes. Drop the fear. Do not worry about insecurity. Simply listen to the music, learn from the instructor, and begin leaning into your new passion.
What Makes The International Ballet Academy Unique?
Unlike social media, YouTube, etc., these classes are truly instructor led. More importantly, experienced dancers do not just hold our classes. They are held by dancers with additional training and experience to teach.
Simply being skilled at something does not always mean being qualified to instruct. Teaching someone how to master ballet is more than dancing and expecting one to copy what you do.
At the International Ballet Academy, all our dance instructors are qualified and professional instructors. We can help ensure you are mastering each step before learning the next. This is important for muscle development and technique which can reduce the risk of accidental injury.
What Are The Benefits of Adult Ballet?
There are many benefits of ballet. These benefits translate to our online classes as well. Being able to reap all the benefits of ballet within the comfort of your own home is a unique opportunity.
Some benefits of adult ballet include:
Building strength
Increasing endurance
Greater flexibility
Improved posture
Better confidence
Clearer mind and improved cognitive function
And more!
Be sure to read Ten Benefits of Adult Ballet to learn more. We cannot wait to help you enjoy your new passion in dance.