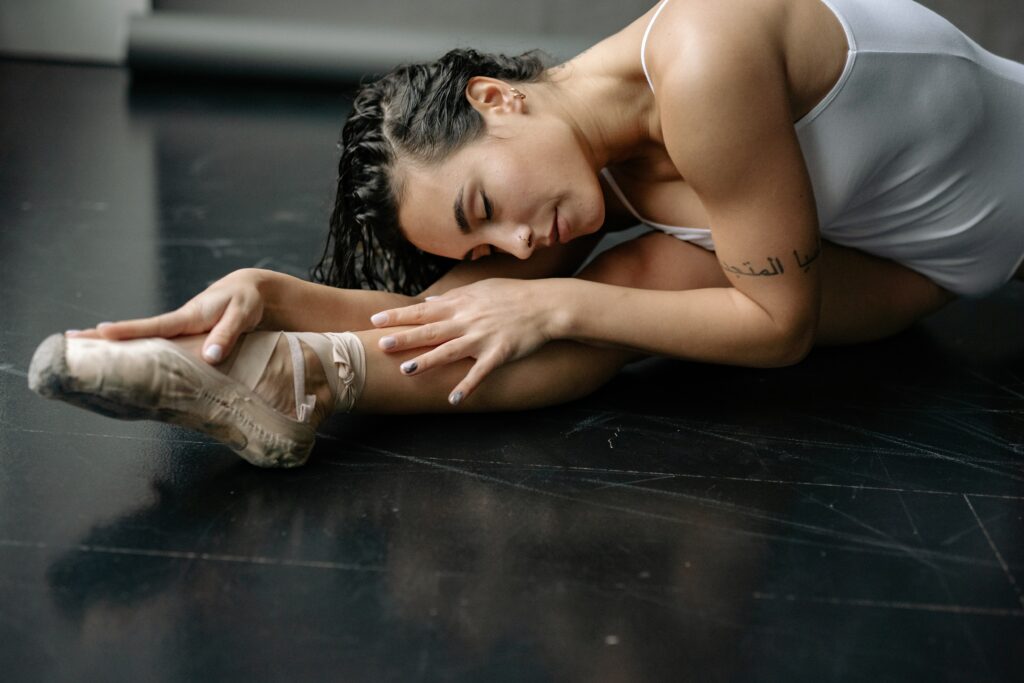 As adults, many of us know the importance of staying healthy, active, and fit. However, many of us also look for ways to avoid the gym. Sure, we know cardio and strength workouts are important, but we are not always a fan of the gym environment. Is it possible for adult ballet to be a substitute for the gym?
In short, it can be! The longer answer, it really depends on your personal goals and other activities. Either way, gym substitute or addition to other workouts, adult ballet has many benefits.
Adult Ballet For Exercise
Being active for 30 minutes a day at least 5 days per week drastically reduces your overall risk of stroke and heart attack. For some adults, ballet is a wonderful way to incorporate frequent activity.
While you may not be sprinting on the treadmill or cycling through a spin class, ballet can get your heart rate up. Any activity which increases your heart rate and aids in muscle building will improve your overall cardiovascular health.
If you have any underlying health or cardiovascular issues, it is important to talk with your doctor before implementing any new activities. However, for most, adult ballet is a safe and effective form of exercise. And for many, it Is enjoyable and does not feel like a workout.
Being active is a fantastic way to maintain an overall healthy weight, whatever a healthy weight is for your body type. Everyone's healthy weight range can vary. At the International Ballet Academy our classes are for all body types. However, being active can aid everyone in reaching their healthiest build.
Adult Ballet – A Substitute For Weight Training?
Having strong muscles is an important part of staying healthy as we age. Good muscle strength can help our joints. Whether you are 22 or 72, keeping your muscle strength up is an important part of staying healthy. For some people, heading to the gym to use free weights is a fantastic way to build muscle strength.
For others, having to lift weights is the last thing they want to do. Ballet is a unique form of dance and art which helps with muscle strength. Regular ballet training can improve muscle strength and help sculpt muscles which will support your joints.
One major advantage of adult ballet at the International Ballet Academy is you get to build strength in the comfort of your own home. Our unique online platform gives you access to quality, professional instructors without having to worry about anyone in the gym watching you move.
Improve Your Overall Stamina
In a world with desk jobs and long commutes, it is easy to lose our physical stamina. Many of us desire to be active but have limited time to do so. Even the best weekend warriors often spend hours a day at their desk.
Incorporating dance training is a fantastic way to get extra physical activity in throughout the week. No need to commute to the gym after a long commute home. You can gradually increase your stamina through adult ballet training.
The overall improved stamina can help you better enjoy your time off work. From extra energy to hang out with friends to finding the energy to take the kids to the park, adult ballet can truly improve your physical health.
Find A New Passion With Ballet
Whether your once dreamed of being a professional dance as a child, or you never really thought about dance, taking an adult ballet class could lead you to your newest passion. Not only can is ballet a wonderful form of exercise, but it is also an enjoyable form of physical art.
From engaging music to beautiful choreography, ballet has a way of drawing even the newest dancer into a new passion. And while some find their passion in the gym, it certainly is not for everyone.
Still not sure about the wonderful benefits of dance, as exercise or in general? Be sure to read 7 Reasons to Take Ballet to learn more. And then check out our curriculum levels to sign up today!