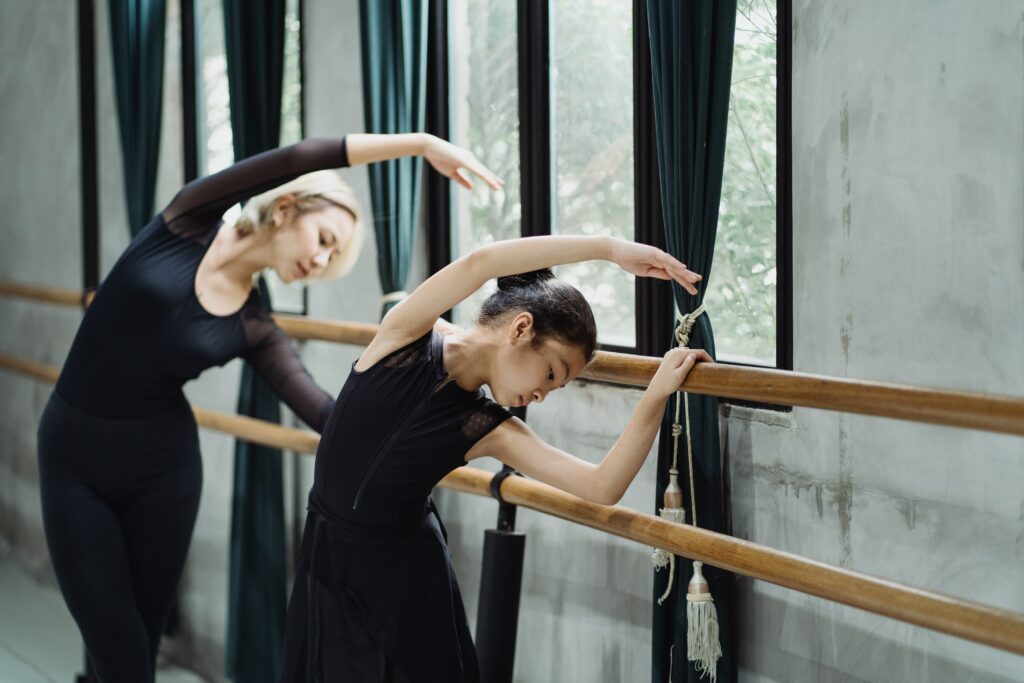 Whether you're choosing a ballet academy for yourself or you child (or both!) there are many to sort through.
How do you know you're choosing the right ballet academy?
Is it important to choose a classical ballet academy?
What does classical ballet training look like?
Is classical ballet training right for me? For my child?
As an international classical ballet academy, we want to help you answer those questions. We're here to help in choosing a ballet academy for you and your child. At the International Ballet Academy, we work with top professional dance instructors. Between our knowledge of ballet and their teaching skills, we know the importance of proper training.
How Do I Choose A Ballet Academy?
When choosing a ballet academy, it's important to find one which truly meets your needs. A ballet academy should:
Use professional dance instructors
Have flexible class schedules
Provide consistent opportunities to train
Have age and skill appropriate class options
Approach dance training as a holistic experience, encompassing both the body and the mind
Be fun and engaging
Focus on mastering skills before moving to the next level
Be encouraging to dancers throughout their training experience.
At the International Ballet Academy, we offer all the above. We recognize the importance of using professional instructors, not simply skilled dancers. Our instructors know how to use their dancing skills to teach you how to develop yours.
What Is Classical Ballet Training?
Classical ballet training focuses on learning the foundational skills of ballet. It recognizes the importance of skill mastery so that you can safely advance in skill levels. When choosing a ballet academy, understanding classical ballet training can be important.
What are your goals in dance training? If your goal is to master ballet, classical training is a great way to do so.
There are many benefits to ballet training including:
Increase endurance
Building strength
Better flexibility
Improved posture
Better cognitive function
More coordination
Gain more energy
Clearer mind
More confidence
And more!
To learn more, be sure to read 10 Benefits Of Adult Beginner Ballet.
Should I Choose A Classical Ballet Academy?
When you're looking at a variety of ballet studios, it can be difficult to sort through which is the best fit for you. If you're new to ballet, it can be hard to even know what to look for. In addition to the things mentioned above, there is a real benefit to choosing a classical ballet academy.
Why? Classical ballet is a tried-and-true art form. It is a style of dance we know how to train in to not only be artistic and fun, but a safe way to condition the body. All forms of dance, exercise, etc. impact your body and muscles.
Training safely in any form of dance is important to avoid or reduce the risk of injury. By choosing classical ballet training with professional instructors, you can ensure you're safely mastering a new skill.
At the International Ballet Academy, we focus on classical training because we know it works. We know consistency and mastering skills at each level are the best and safest ways to help you master ballet.
For little ones beginning ballet, this is vital as they are learning to safely use their muscles groups. Developing a proper and strong posture can be a lifelong foundation for future dancers and athletes. Good posture can set the stage for lifelong musculoskeletal health. Choosing classical ballet is a great way to support their healthy growth and development.
Is Classical Ballet Training Right For Me? My Child?
If access to quality and safe training, and lifelong skills are important to you, then yes, classical ballet training is the answer!
At the International Ballet Academy, we work hard to ensure our classical ballet training is the best available. We know the benefits of a truly holistic approach to dance training. As professional instructors we make sure you receive all the benefits of adult beginner ballet and ballet for children.
We are here to help you and your child master each skill level to create a firm foundation of ballet skills. From proper stretches and warmups to advance choreographed skills, we take each step seriously. You can rest assured that when we recommend advancing levels you and your child are truly ready to do so.
Ready to get started? Register today!