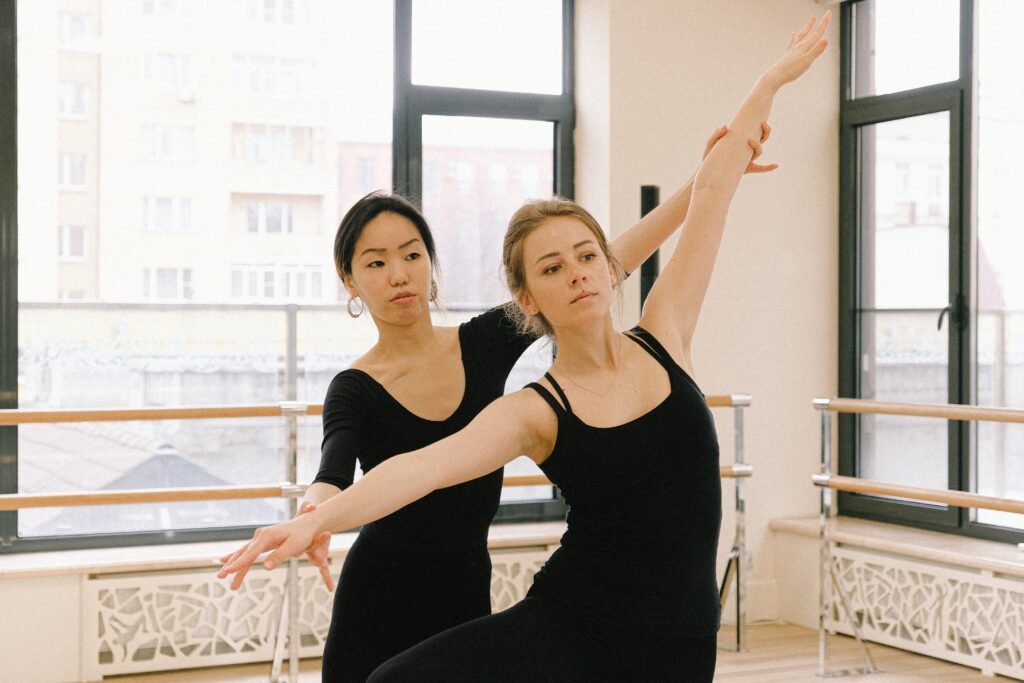 Who should take adult ballet classes? Anyone! That's right, adult ballet classes offer benefits which anyone can enjoy. At the International Ballet Academy, we truly believe everyone should have access to the benefits of ballet.
With our unique online platform, our professional dance instructors ensure everyone can have access to adult ballet classes. While myths persist around adult ballet classes, ballet can be beneficial to all.
What Is Adult Beginner Ballet?
Adult beginner ballet, and absolute beginner workshop, are classes designed for anyone who wishes to enjoy ballet. Whether you've taken classes as a child, or you've never stepped foot in a dance studio, these classes are for you.
For experienced dancers, we offer other adult ballet classes. However, for those considering ballet for the first time, or the first time in a while, adult beginner is for you.
Adult beginner ballet, and absolute beginner workshop, offer professional instruction to lay the foundations of ballet. Ballet is an art which is built upon. We master each skill level before moving to the next. With our adult beginner classes, we ensure you have a good foundation in ballet basics.
Whether you hope to advance in skill levels or you're simply looking for a fun activity, these classes provide what you need.
Why Online Ballet Classes Instead of Self-Learning?
There are endless YouTube channels, videos, and books on ballet. Why spend money on online ballet classes? Simply put, professional instruction!
Whether you're new to dance or you haven't danced in a while, it is important you master each skill before jumping to the next skill. Ballet is safe form of dance. However, as with any physical activity, there is the potential for injury.
No one can fully remove the risk of injury any time we are active. However, professional ballet instruction can greatly reduce the risk of injury. By working with the International Ballet Academy's professional instructors, you will learn the right moves in the right order.
Mastering beginning level skills is vital before moving on to intermediate and other levels of dance. Professional instructors can help you find the right posturing and right muscle engagement to reduce your risk of self-injury.
What Are The Benefits of Adult Beginner Ballet?
Ballet offers people if all ages immense benefits both physically and mentally. When you decide to take an adult ballet class, you are deciding to improve your body's health and wellness.
The benefits of adult ballet include, but definitely aren't limited to:
Improved core stability
Fine tuning motor planning
Improved balance
Overall muscle strengthening
Improving joint strength
Cognitive improvement
Better working memory
Higher confidence levels
General benefits of exercise
Better coordination
And much more!
The benefits of adult ballet can truly improve your quality of life. Not only is ballet a great form of exercise, but it is also an art. Movement, and the arts can improve your overall mood and wellness. Best of all, you will have fun.
Who Should Take Beginner Ballet Classes Online?
For many adults, our days are packed tight with work, school, children, errands, and more. The ability to squeeze in another activity, no matter how beneficial, can be challenging.
With the International Ballet Academy's unique online platform, you get all the benefits of ballet without having to leave your home. Enjoy ballet without having to navigate evening commutes during rush hour. Benefit from movement without having to spend more time sitting in the car. If you're feeling uncertain or shy about your skill level, you get to master new skills in the privacy of your own home.
Who should take ballet classes online? Everyone who wants to truly enjoy the art of ballet!
How Do I Get Started?
The first step in enjoying Adult Beginner Ballet is to register. Once you register, simply find comfortable dancewear. Finally, enjoy the class! Get moving and enjoy all the benefits adult beginner ballet has to offer right from the comfort of your own home.