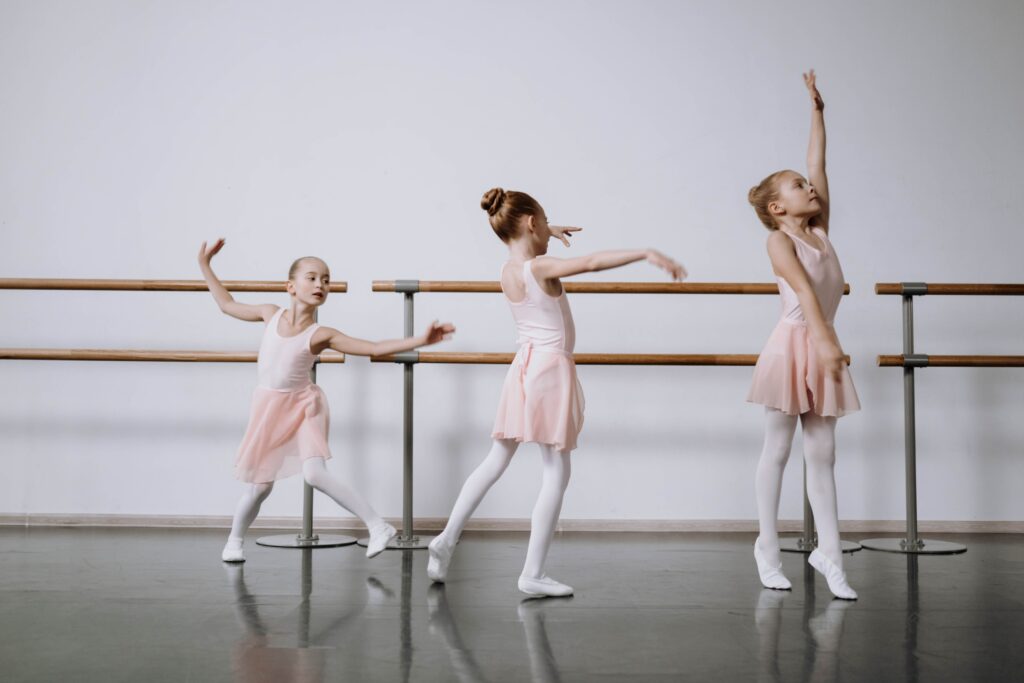 As parents, we want to ensure our children have fun, are growing, and they're developing important skills. Many of us associate ballet with a rite of passage in the early years. We think of ballet for preschoolers with mini leotards and puffy tutus.
We think of little kid ballet as cute, but are there benefits of ballet for preschoolers? Absolutely! For parentings invested in their child's fun and development, ballet is an excellent activity.
Ballet offers significant benefits, including but not limited to:
Ballet For Preschoolers Helps With Social Skills
Helping our little ones develop social skills and learn to interact with peers and teachers is an important part of development. When children do ballet, they learn to take direction from their instructors. This is a helpful skill for their preschool years as well as the school years to follow.
Ballet is a fun and interactive way to learn instruction and how paying attention comes with benefit. When the children pay attention to their instructors, they learn to master fun new skills in dance.
Ballet Will Improve Confidence
As parents, we want nothing more than for our children to feel so confident no one could possibly tear them down. In a world where we deal with negative interactions on social media, at school, etc., we want to help our children feel there best long before they're exposed to the risk of negative interactions.
Children who do ballet often have an increased sense of confidence. Ballet requires mastering skills, then adding new skills, then bringing it all together to make a beautiful form of art. Your child needn't be the best dancer around to build confidence. Ballet helps each child do their best and see they are capable of mastering something amazing.
Ballet for preschoolers is an amazing way to help your child feel confident. Ballet provides a unique opportunity to build them up so others cannot tear them down.
Ballet Helps Kids Master Developmental Milestones
When our children are infants, we tend to track rolling, sitting, crawling, etc. As our children get bigger, it's easy to pay less attention to important milestones. After all, they're walking, talking, and interacting, what else is left?
Surprisingly, there are still many important developmental milestones to master. Children who participate in ballet are able to master balancing on one leg, they build strength to be able to skip, and they have the skills and strength to jump. These are just a few of the important milestones we want our preschoolers to develop.
Whether your child dances long term, becomes an athlete, or prefers other activities, the foundation they build in ballet will offer significant benefits. When children learn to use the right muscles and build a solid foundation, they are less prone to injury and more likely to succeed in all physical activities.
Learning Ballet Improves Cognitive Skills And Is Even Helpful For Math
Exposure to music, patterns, instructions, and quality movements are all associated with improved cognitive development. Exposure to music and patterns is an important pre-math skill. Music and patterns help in the development of important neuropathways which will aid in understanding math.
Physical movement and mastering motor skills are important parts of cognitive development in children. The developing brain is complex, and physical skills go hand in hand with cognitive development. As babies master rolling and crawling, they begin to babble more as their brain pathways develop.
When toddlers learn to walk, jump, and climb stairs, their brain continues to develop more. As preschoolers learn multistep dance skills, their brains are getting ready for more problem solving, math skills, and learning more instructions.
The International Ballet Academy Teaches Adaptability
The unique online learning platform of the International Ballet Academy teaches preschoolers that you can learn anywhere at any time. Global pandemic making in-person classes unsafe? Not a problem! Busy schedules with little time to commute to activities? Learn in the comfort of your own home without having to drive.
Worried about performing in front of other children? Learn at home, in your living room, with a qualified ballet instructor.
We make it easy for every child to enjoy the benefits of ballet for preschoolers.