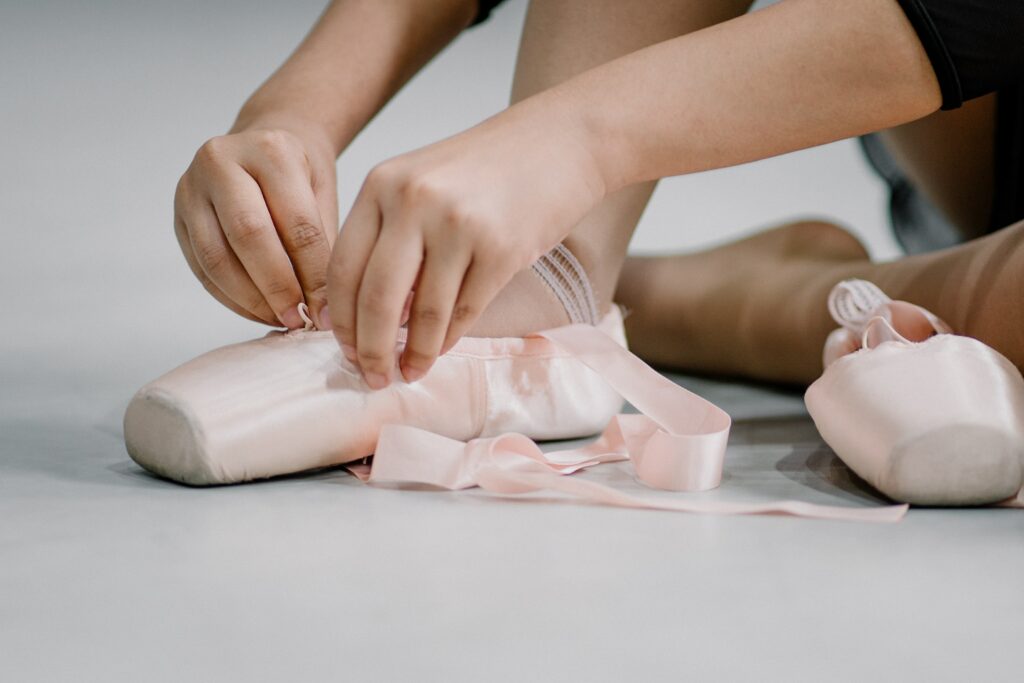 Ballet training has significant benefits for children and adults alike. However, classically structured classes can be limiting for people with physical and developmental differences. For this reason, we've created our adaptive ballet program so everyone has the opportunity to benefit from ballet.
There are significant benefits of adaptive ballet. Why? Simply because ballet offers a lot of benefits and an adaptive class makes ballet available to all.
For children and adults with hypotonia, developmental coordination disorder, motor delays, down syndrome, ASD, and more, an adaptive ballet class can be tailored to fit their unique needs.
Not all with motor or developmental concerns need an adaptive class, our traditional classes are open to all. However, for those who find our other classes aren't a good fit, our adaptive class is available.
What Is Adaptive Ballet?
Classical ballet training builds strength, endurance, and coordination. These are of significant benefit to all children. For those who may need extra time or adaptations to certain dance skills, our adaptive class is adjusted to meet their unique needs.
In our adaptive class, everyone can build strength, endurance, and coordination but without the stress and pressure of asking their body to do something it may not yet be ready to do.
An adaptive ballet class may vary depending on the needs of each dancer. It may look like teaching students to use more support and barre for each move rather than a freestanding move. In some cases, it may mean adjusting the choreography, choosing a slower or faster count, or adjusting the way a classic dance skill is mastered.
Adaptive ballet will look different in each class but one thing remains the same: all dancers will have a chance to benefit from and learn classical ballet dancing.
What Are The Benefits of Adaptive Ballet?
Many children and adults with motor delays benefit from ongoing physical and occupational therapies. They're typically encouraged to remain active, especially with whole body exercise. For example, a child with hypotonia (which is looser muscle tone) cannot change their tone but they can build strength to compensate for looser muscles.
Whole body exercise like ballet training is an excellent way to build strength. Children with hypotonia use more energy to accomplish the same movement as a child without it. In an adaptive ballet class, instructors are aware of this and tailor their training with that knowledge. Many children with hypotonia can master skills just like their peers, but they need to build more strength than their peers to accomplish the same movements.
Some benefits of adaptive ballet include:
Improved confidence
Building muscle strength and endurance
Developing more coordination
Aiding in cognitive development
A fun way to exercise
Improve posture
Strengthen joints
Learn patterns through simple choreography and beats
Physical and occupational therapy are both wonderful, but children can get burned out with formal therapies. Adaptive ballet is a great way to incorporate components of therapy while having fun in a less formal way. While it is not a replacement for professional therapy, it is a great complement as well as a wonderful tool to use between therapy sessions.
Is Adaptive Ballet Right For My Child?
One of the wonderful things about adaptive ballet is that it can be adjusted to meet your child's needs. For children with motor delays, being forced into a class with children younger than them can wear on their self-esteem. Adaptive ballet provides access to ballet training without having to keep an older child with only younger children.
If your child wants to take ballet but fears being left behind, our adaptive ballet class could be a perfect fit for them. In some cases, children can go from an adaptive ballet class to a traditional one (perhaps in the case of mild hypotonia).
For those who need an adaptive class long-term, our instructors can continue to take them to the next level in their own timeline. Rather than being stuck at just beginner level dance, your child can continually build new skills at their own pace.
Adaptive ballet can be an excellent confidence boost for children. Rather than noticing what they have to work harder at than their peers, they can focus on the skills they're mastering. They're less likely to be distracted by attempting to keep up and more likely to build confidence with each new skill.
Ready to get started? Register today!