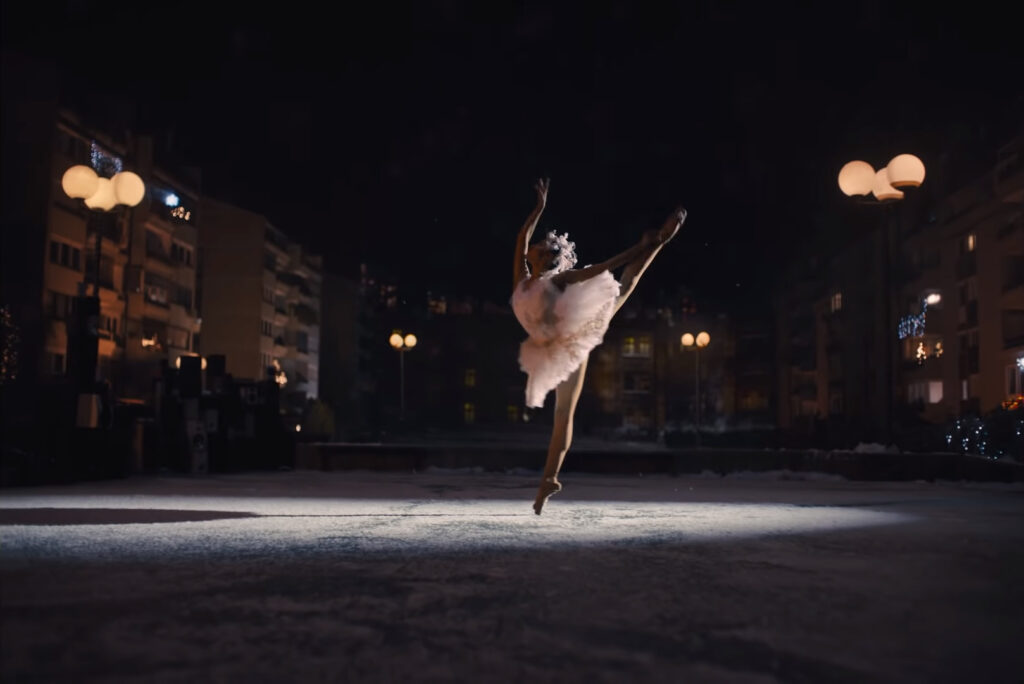 With the holidays approaching and a Covid-19 precautions still in place, many of us are wondering what the holidays will be like. The Amazon Christmas ballet commercial decided to take us on a magical journey to remind us just what the holidays are truly about. Even with our extended safety protocols, the magic of ballet can shine on this holiday season.
For young and experienced ballerinas alike, the holidays often mean a time to showcase their hard work. It's a time for dancers to share the joy of their art. The Amazon Christmas ballet commercial showed us beauty, magic, resilience, and the power of community.
Why The Amazon Ballet Commercial Is A Must See
At the International Ballet Academy, we know how hard our dancers train. We know the amount of time, energy and strength they put into perfecting their art. For many dancers, 2020 has meant missed trainings and canceled recitals.
For someone as dedicated as a ballerina in training, having your holiday show canceled is devastating. Not only can it feel like wasted training, there's a sense of loss when you can't share the magic of your craft. Ballet and the Christmas season simply go hand in hand for holiday magic.
The Amazon Ballet commercial captured the dedication and hard work ballet training requires. It captured the beauty and magic of the art of ballet. And perhaps most importantly, it captured the sense of family and community which happens during difficult times.
Watch The Amazon Ballet Commercial
As ballet instructors and dancers, we are so inspired by this commercial. An artist can bring her entire community together. Our resilient dancers can overcome closed studios and canceled shows. While this may be just a commercial, it's an inspiration for all of us, especially dancers.
It was a beautiful reminder that within all of us is the ability to create something beautiful. Be sure to watch this and continue below to learn how you can dance just like her.
Amazing, isn't it? Her hard work, dedication and her skill are astounding. Her family and community support, inspiring. Amazon perfectly captured the emotions of 2020 while providing encouragement and inspiration through the art of ballet.
Ballet Training In Your Home
Watching this commercial makes us want to get up and dance. For experienced dancers, we're missing the studio and our instructors. For aspiring dancers, we're inspired but unsure how to tackle a new skill in the midst of a pandemic.
Fortunately, 2020 also brings us the beauty of connection. With the International Ballet Academy, you can have professional ballet training in the comfort of your own home. With our online academy, you can develop the skills this ballerina used in this inspiring commercial.
At our academy, you're able to jump into regular ballet training whether it's your first class or you're an experienced dancer. From beginner adult ballet to advanced ballet, we have a course that will fit your skill level.
With synchronous and asynchronous instruction, you'll have access to our expert ballet instructors on a flexible schedule. It's been said that choosing a new hobby is a great way to manage stress and isolation during this pandemic. With our lessons, you can easily make ballet training your pandemic project.
Benefits Of Adult Beginner Ballet
Watching the beautifully choregraphed ballet performance makes many of us wish we could perform in the same way. Well, with adult beginner ballet you can be on your way to dancing just like the talented young woman.
In addition to being a beautiful display of art, adult beginner ballet has some amazing benefits including:
Building strength
Increasing endurance
Better posture
Builds confidence
Improve coordination
Better flexibility
Increase overall energy
Better cognitive function
Clear mind
To learn more about each of these benefits be sure to read 10 Benefits Of Adult Beginner Ballet.
Ballet Training During Covid-19
We're living through an unprecedented time. A season where we need hope, activity, and community. Yet, we also need to practice safety, distancing, and spending most of our time at home. This is why the Amazon ballet commercial was so inspiring.
With dedication, she continued to train even once she had to do so at home. With support, her family found a way to help her showcase her talent and commitment to training.
For us at the International Ballet Academy, it became a clear illustration of why we do what we do. We are bringing ballet training right to your home. We are ensuring you have access to the same quality instructors you'd otherwise be able to have in a studio.
While this pandemic may be temporary, the benefits of ballet training are not. The flexibility and unique services at the International Ballet Institute are here to last.
Ready to get started? Register here today!