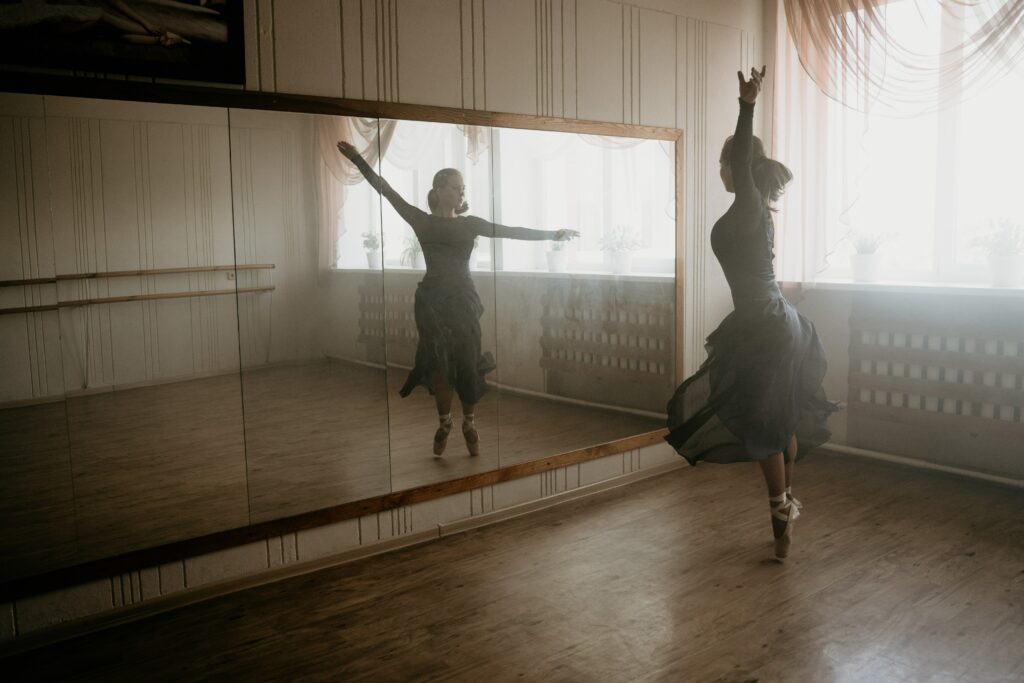 For many of us, we grew up loving to dance. We began ballet as a young child and carried on for years. Some of us went up through pointe, and perhaps we even danced across popular stages. Now that we've aged, we want to try adult ballet and learning to dance again. What exactly does that look like?
At the International Ballet Academy, we strongly believe the art of ballet is meant to be enjoyed by all. We want our classes to be accessible for all ages. We provide many levels of adult ballet, from True Beginner Workshop through Adult Intermediate.
We know it can be scary to dust off our old ballet shoes. However, we also know that once you get moving, you will fall in love with dance all over again.
Adult Ballet – Learning to Dance Again, What Class Do I take?
One of the reasons we love our unique online platform is you can choose the right class for the right reasons. You do not need to take a class which is too easy or too hard based solely on a studio's schedule.
With our unique asynchronous prerecorded lessons and synchronous program, you can fit the right class into your schedule. We offer three different programs for adults.
Our adult ballet programs include:
Absolute Beginner Ballet Workshop – "Have you always dreamed of learning ballet, but never had the opportunity?… It is never too late to fulfill the desire within and start dancing. The Absolute Beginner Ballet Workshop is an introductory course for all."
Adult Ballet Beginnings – Already a bit familiar with classical ballet? Or you've completed the prior program? "Step by Step Classical Ballet Instruction. Two classes per week. 9-month program."
Adult Ballet Intermediate – Like ballet beginnings, this is two classes per week a 9-month program. This class is more advanced than ballet beginnings and will help you continue to learn to dance again.
As mentioned, regardless of which level you need, you do not need to work around our schedule. You can simply choose the right level for you and the class can easily fit into your normal routine.
What is it Like Learning to Dance Again?
With adult ballet, you will gradually get back into shape and master each dance skill. However, you will do so in a fun way which allows you to fall in love with dance all over again – or for the first time!
Each class provides step by step classical ballet instruction. As each week goes on, you will notice your core strength and stability improving. This can help with your day-to-day posture, back pain, and more.
As you learn more, you will begin to remember each step to choreographed dances. Memorizing and mastering dance moves can help improve your cognitive function, memory, and more.
It is not uncommon to briefly wonder if you are too out of shape or too unfamiliar as you try to tackle an adult dance class. However, with our prerecorded classes you can do at your own pace, you never need to worry about falling behind.
After some classes, you might find yourself a little sore, as with any full body exercise. However, with continued ballet training, you will find yourself in better shape and not noticing aches.
If you're already in overall good shape, you may not notice any aches. However, you might notice an increase in your overall flexibility and core stability which are not always used in other activities.
How Does The International Ballet Academy Work?
As soon as you register, you will immediately gain access to your class. You will receive access to that week's lessons, information about the live instruction, and be able to join our community page. This community page allows you to connect with instructors, dancers, and families.
The moment you register for Adult Ballet, you will be on your way to learning to dance again. Be sure to register now! We are so excited to watch you excel and follow your dreams.