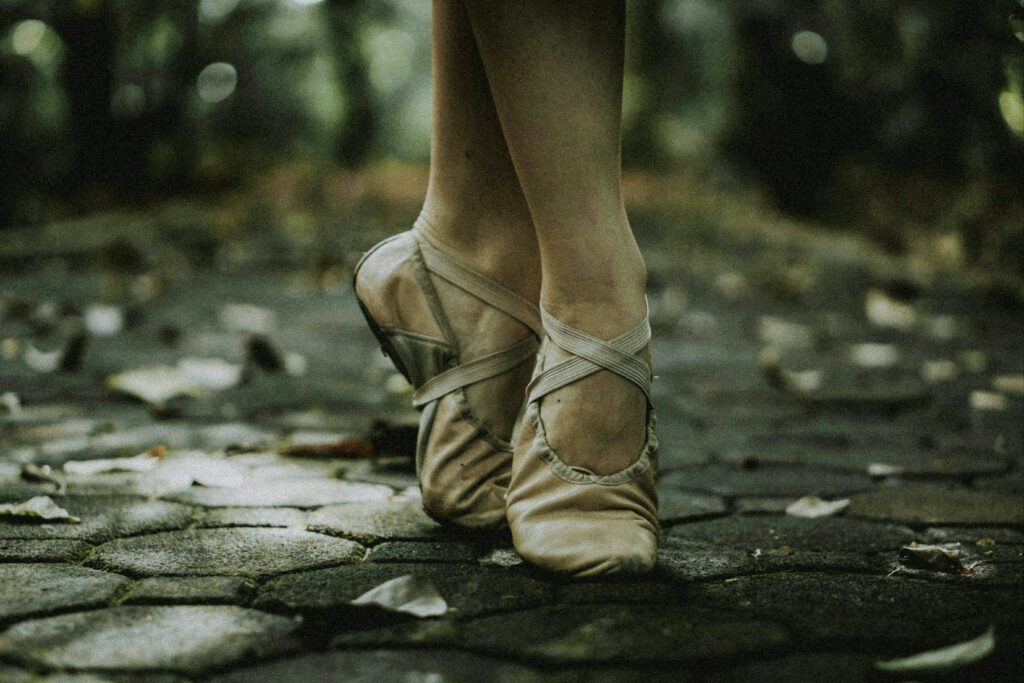 During the post-holiday COVID-19 spike, I had the chance to meet with author Kathryn Craft via zoom. She's a published novelist and former dancer. Though, as I learned through chatting with her, I suspect once a dancer, always a dancer.
She is no longer gracing the stages of her college town, but the art of dance continues to influence her life. In fact, her first published novel, The Art of Falling, was heavily influenced by her time as a dancer, choreographer, and dance critic.
As a parent of a young dancer, I wanted to learn more about the impact dance can have on one's life. Many children go through dance class as a rite of passage in childhood. Some continue through adolescence, some quickly move onto other activities, and some return to it later in life.
While it's far too early to see which path my dancer will go down, I'm intrigued by the possibilities found in dance. Knowing Kathryn had experienced dance as a young child, stopped dancing, and then trained as a young adult, I found her story perfect for better understanding the impact of dance at various stages in life.
"I always knew that I wanted to move."
For the littlest dancers, they often join ballet (well, creative movement) for the chance to dress as a ballerina. For older kids, and even adults, the motivation may vary.
At the International Ballet Academy, we offer classes from Caregiver and Me all the way through Intermediate Adult Ballet. I thought Kathryn's journey could provide more insight into why some choose to try dance beyond young childhood.
"I always knew that I wanted to move. And I tried so many different things. So many different things. Like I did take some early, early dance classes, like too early where you can hardly learn anything. It seemed boring and so I quit," Kathryn shared.
"And then in junior high, I started with gymnastics. I love gymnastics, to this day, but I have small bones for my muscle size, and so I was constantly straining a wrist or something. My back was not flexible enough so I hit the wall, pretty early, as to how far I could go. But, oh my gosh my dream was to like fly around on the uneven parallel bars," she explained with a smile and the hand gestures you'd expect of a dancer dreaming to fly.
In speaking with Kathryn, I realized dancing is not always the first stop for a creative person who simply wants to move. It can take time to find the right medium of art. Movement, whether dance, gymnastics, or even competitive sports, is art.
When Dance Finds You
For some people, dance is a sought-after dream. From early creative movement through pointe, the dream of dancing across stage has always been there.
For others, dance is simply convenience turned passion. In the case of Kathryn, it was a chance to skip physical education in high school. As someone not very into sports, I could relate to her choice to take high school dance rather than typical gym class.
"I learned that for next fall, our high school was going to expand their arts offerings and you could opt out of physical ed for one year in order to take dance.
"And you didn't have to take gym as a senior so that meant I could take it for two years. So, in order to try to get ready for this and get in shape for it, I took private barre classes during the summer. This means I learned all the exercises standing at the barre, and that did train my muscles and just started working hard," she said.
A Natural Build for Dance
At the International Ballet Academy, we are major proponents of accessibility and inclusion in dance. Our classes are open to all. However, as with any activity, some body types make certain movements easier. In the same way Michael Phelps' impressive arm span gives him a distinct advantage in swimming, some body types can aid in dance.
"I kind of had a natural turnout. I always walked with my feet duck footed my whole life; and my mother would yell at me about it all the time. But it was perfect for ballet!"
Kathryn continued to share about her preparation for ballet, "So I did this barre class. And so, then the fall came, and it was auditions to see whether you would go into the more advanced class or the beginner class.
"Well, I had shown like a star at the barre but then when we went to center floor, I was completely lost. I didn't know any of the terminology, my body didn't understand how to reverse anything, you know, it was a train wreck. I was on the verge of tears, and I stormed out into the wings.
"And my friend, who wanted me very much in her class, she'd already been taking ballet. And when she learned that there were only like five people in the advanced class and like 15 in the beginner and they needed to figure out how to rearrange it, she marched right over there and said, 'My friends been taking private barre all summer. She's very motivated, she just needs to catch up on the center floor. I think she should be in the intermediate class."
"So, I ended up the intermediate class. I had to work, super hard. I was in tears at the end of every single class because I was so far behind everybody else, but that didn't mean I didn't love it," she said with the smile of someone who still remembers the joy of dancing.
Her natural build for dance was an advantage, but the work still needed to be put in. One of the advantages of our classes is the ability to train somewhat at your own pace. You can put in the extra work, like Kathryn did. It can be extremely challenging work, but it can still lead to a love for dance.
An Education, A Career, And the Ongoing Benefit of Dance Training
What intrigued me most about Kathryn's story was how dance continued to influence her life. While she was not the eight-year-old training and dreaming of dance all her life, she became the teen who fell in love with it.
The transition from having to follow what parents, teachers, etc., say can be a big one. For Kathryn, her mother's words as she entered Miami University in Ohio seemed to drive her deeper into dance.
Clearly remembering the feeling of rebelling against what did not feel like acceptable advice, she said, "And my mother said, 'You're here to get the education you want, and you can major in anything you want, except dance.' And I was so angry at her. For one thing, she obviously knew nothing about dance because there's no way I could major in it after having just started dance at age 16.
"Secondly, Miami University didn't have a dance major. And do you think I was going to tell her that? Heck no!
"I just let her believe, it was a choice, and she wasn't going to tell me what to do. And so, I ended up getting as close to a dance major as I could. I got my bachelor's in biology, with a dance minor. And then I stayed, because I got a graduate assistantship to teach in the dance program. So, I stayed two extra years and got a master's in physical education with a dance concentration."
As a parent and as a daughter, her story made me laugh. The irony of wanting to do the opposite of a parent's wishes somehow leading to a master's degree. Perhaps there really is magic in dance.
She had such amazing stories to share about her time in college, especially during graduate school. There were inspiring stories about finding the meaning in choreography, meeting dancing legends, and truly finding her confidence with the help of her mentor. My inability to share each story within one article truly highlights how impactful dance can be.
What really stood out to me was how her stories echoed the research I found showing participation in dance is often connected to an increase in confidence. Kathryn shared about the time principal dancer and choreography legend Phyllis Lamhut critiqued her choreography.
"The point I'm getting to, it was so empowering to have an opportunity to hear from someone that I have good ideas in this brain of mine, you know. And so, between the mentor and situations like that, it made me feel like what I think and feel actually matters, or it could matter. I could make it matter."
For some, it's the influence of teachers, mentors, and even critics. For others, it's seeing hard work paying off. The ability to realize you can do hard things and have that challenging work turn into something beautiful.
As we finished our discussion, we chatted about how dance and choreography influenced her writing. She shared what she learned as a dance critic for a local paper.
One incredibly important thing I took away as a dance parent was this, "When I was writing for the Lehigh Valley Arts Council for a number of years. I interviewed top executives, about the value of the arts to them. If they see the arts on someone's resume, they will bring them in for an interview. They said in order to advance our field, we need people who can think independently and think outside the box and creators are those people."
For someone who hoped to dance for many years, but ultimately had to listen to her body and stop, she was incredibly insightful about the benefits of dance long after retiring from it. This quote she repeats to other writers is now etched in my mind and I hope it stays in yours too.
"There often comes a time when you need to thank your original inspiration for doing its work, and then gently, let it go."